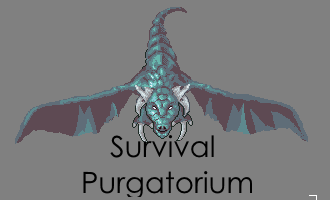 Survival Purgatorium
This was created in a weekend by me for Ludum Dare 35 Jam using the theme ShapeShifter. Game Design and programming by me with art, sound and music supplied from elsewhere.
This is an endless wave survival type game where you play as alternately a helpless robot (you just need to run) and a dragon (you have to kill the AI robots). If you run out of lives as a robot you lose and need to restart. If you kill a robot as a dragon you gain an extra life for the next round you are as a dragon.
Fire1/2 (default left/right mouse click) to start the game.
Made in Unity so either download it for the exe or play in browser if still supported. Note that on my computer the robot character did not display correctly so downloading it may be necessary.
[Attributions]
Dragon taken from Demon Taken from: http://opengameart.org/content/whispers-of-avalon-....
Music from https://ourmusicbox.com/
Shot sound effect generated by bfxr: http://www.bfxr.net/
Robot sprites, animation etc all from Standard Unity assets.
Other textures from Standard Assets.
Install instructions
Made in Unity so no install required.
Download
Download
Survival Purgatorium LD35.zip
14 MB